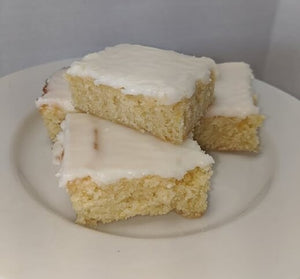 A dense, wet lemon bar with the texture of a brownie, but pure lemon flavour. No chocolate involved in these brownies, but all lemon. A light icing with another hint of lemon.
4pk of bars
Bar Ingredients: all purpose flour, white sugar, butter, eggs, lemon juice, lemon zest, icing sugar, baking powder.
Icing Ingredients: icing sugar, butter, cream cheese, milk.
May contain traces of nuts.