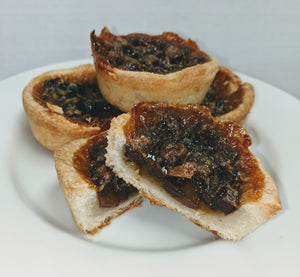 A 6 pack of hand made butter tarts. The pastry is light and flaky, hand pressed for each butter tart. The filling is sweet and gooey, just the way you like it.
Choose from pecan, raisin, plain, coconut or chocolate. If you would like a mixed package, please leave your flavour choices in the comment section.
Pastry Ingredients: all purpose flour, lard, water, eggs, vinegar, sugar, salt.
Filling Ingredients: brown sugar, corn syrup, butter, eggs, vanilla extract. Pecans, raisins, coconut or semi sweet chocolate chips, per flavour.
May contain traces of nuts.